Continuing from last week, here's part 2 of the researched tips from various tech to help your gift hunt for the holidays. It just keeps getting better
5. Wacom Bamboo Pen and Touch
It's the tablet season and this sleek piece has both pen and touch inputs. This is an idea gift for designers and artists as it has a 4.9 x 3.4″ touch area and a 5.8 x 3.6″ pen area. With this gift included are the Adobe PhotoShop Elements and Nik Color Efex Pro programs – an affordable investment for beginners and professionals. You and your artsy friends and family will love it!
Value: $99
4. Crosley Radio
Do you or your family/friends have rare vinyl and cassettes they'd like to put on CDs without the hassle? The CR2413A Memory Master II is a turntable device that allows you to record vinyl and cassettes to CD without the hassle of adapters or complicated computer savvy. Older media will be transformed into the new media with a push of a button. The box has a built in radio and just looks awesome. It's great for nostalgia and listening to old music. Connects 3 different record speeds: 33 1/3, 45, and 78 rpm.
Value: $400
3. Apple TV
If you're not sick of Apple gadgets this season, you need to take a look at this. The new and improved Apple TV is smaller and able to be slipped into almost any home entertainment setup with ease. It comes with an unobtrusive remote and a free remote app for Apple devices. It can also be connected either via WiFi or Ethernet and allows you to stream content from iTunes, Netflix, YouTube, Flickr+others. Comparable to Amazon – see for yourself.
Value: $200
2. Amazon Kindle
Perfect gift for the frequent traveler, public transit taker, or book geek. Okay, perfect gift for anyone really. The Kindle offers a library of hundreds of thousands of books, newspapers, magazines, and blogs available for reading. It comes standard with a free 3G wireless network connection and stores up to 3,500 eBooks. Its flexible display options including 8 different fonts, some of which are extra-large, make it accessible to most people. It's lightweight and displays images, plays MP3 and AAC audio files. An iPad for a book worm.
Value: $200
1. Atum VPS plan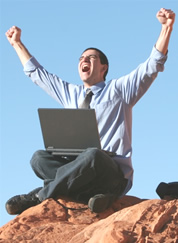 Yes, you read that correctly. The number one present this holiday season everyone needs is dedicated VPS from Atum. Okay perhaps not everyone. We still suggest getting your girlfriend some jewelry but if you know a business owner who is not up with the times and has servers in his closet, or whose business experiences downtime, or whose costs are just too high – do them a favour. Make sure in 2011 their business performs the best it can with an Atum VPS plan. Trust us, they will thank you for it
Now get to shopping!
Happy Holidays,
Atum.